Deep Sea Music

Deep Sea Music, Inc. was formed in 1984 as a professional creative outlet for composer/producer Daniel Portis-Cathers. Rather than focusing on a particular style of music or single artist, the agency often serves as a conduit for musicians from a wide range of cultures and musical traditions. The result is often an amalgamation of approaches and techniques that results in something fresh and invigorating. The sea has been a presence throughout most of Daniel's life and is an image that elicits a wealth of meanings and possibilities.
Daniel Portis-Cathers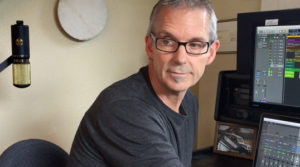 Daniel was born in Newport, OR, was raised in Italy and traveled frequently throughout western Europe. As an adult he spent time in both Africa and Sri Lanka recording music and sound effects for use in later projects.World music continues to exert a strong influence in his writing.
As a performer, he toured the Pacific Northwest for several years with The Portis-Cathers Ensemble, a trio incorporating guitar, violin (Dave Burham and Rob Thomas) and tabla/percussion (Roger Hadley). Incorporating a blend of classical, jazz and world music styles, Joseph Roe from OPB identified them as "one of the truly great new music ensembles in the Northwest."
During the late 90's and early 2000's Daniel moved to Nashville to study songwriting and song production. His passions are writing and producing. A highlight of his work is collaborating with instrumentalists and writers from around the country.
Awards/Clients
Deep Sea Music has produced music for shows winning awards at these festivals:
The US International Film and Video Festival •The International Film & Television Festival in New York •The Houston International Film & Video Festival •The Joey Awards
The Emmy Awards •The Telly Awards Festival •The Cascade Awards Festival •The Lulu Awards Festival •The Jackson Hole World Wildlife Film Festival •The National Education Film and Video Festival •The Pacific First Federal Composers Festival •The American Song Festival
Deep Sea Music product has been used by these companies and clients:
Nature (PBS)  •  Apple Computers  •  Discovery  •  NFL Films  •  ESPN  •  Fox Sports  •  The Ricki Lake Show  •  Jenny Jones  •  Melrose Place •  One Life to Live  •  Disney  •  Intel  Shilo Inns  •  The Portland Trailblazers  •  Good Morning America  •  Saturday Night Live! • CBS  •  NBC •  ABC  •  Playboy  •  Wild On  •  Hollywood Entertainment  •  And many more!